01/ Fine Art Printing
Give yourself or your loved ones a gift in form of high quality print. It will give you a unique decoration and a valuable fine art piece. All prints bear my signature and a serial number and are printed on the highest quality photo papers today. After 100 sold pieces, the photograph is excluded from the sale. The format and maximum print size may vary for each individual photo. Please contact me directly via the contact form on this website, I would love to help you select the right photo for you.
02/ Image Licencing
Do you like my photos and consider using them for presenting your products, services, websites etc? Please contact me, I will try to meet your requirements. Are you looking for images for charitable or environmental projects? Tell me please your intention, I can provide my images for free.
03/ Public Speaking
If you are looking for a speaker for an event in the context of the photo club, festivals or conferences, do not hesitate to contact me. Are you a representative of the school or non-profit organizations? I am able to speak to students or for the public.
Photographs pricelist
36 x 24 cm ........................... 99 Eur
90 x 60 cm ........................... 199 Eur
150 x 100 cm ....................... 399 Eur
I can provide a discount for orders of 5 or more photographs.
---
---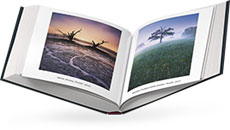 Photography book

LANDSCAPE IN PHOTOGRAPHY
Would you like to see my photos in a book? You can order my book Landscape in Photography.
Price 35 EUR